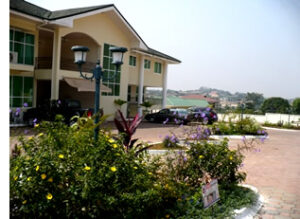 The hotel is 31 standard twin deluxe, executive rooms and suite, transform hospitality and comfort into an exquisite art
form. Each room is well-appointed and features an array of amenities to enrich a guest's living experience. Each room has a work desk featuring broadband internet access to help guests stay connected, whilst in the midst of comfort.
Plush interiors, satellite TV, mini bar, as well as electronic monitoring system all help to enhance guests' comfort levels during their stay. A 24-hour personalized and efficient room service ensures a feeling of pure comfort and luxury. Well-crafted fountains provide soothing to the senses.
For a good workout, there is a state-of-the-art fitness centre with the latest equipment where qualified instructors are at hand to guide guests through their fitness regime. To unwind after a stressful day, guests could just immerse themselves in the comfort of the hotel's large outdoor swimming pool.
Guests could treat themselves to an exotic collection of tender meats, exquisite salads and tantalizing desserts from the restaurant against the backdrop of the hotel's relaxing pool and garden.
The hotel's two conference rooms with seating capacities of 350 and 80 have been fitted with state-of-the-art conference facilities to provide a perfect atmosphere for meetings. It also has two syndicated rooms with seating capacities of 15 each. The hotel's experienced and highly trained staff ensures that it provides services of the highest quality and reliability for its cherished guests.
Whatever the lure, Royal Lamerta Hotel offers unsurpassed facilities to fulfill your desire of a stylish and exciting gateway.
Royal Lamerta Hotel, Your World at one place.